I find it quite interesting how happenstance seems to be the inspiration for a great number of my articles not involving my dividend income summaries or dividend increase series. It was just the other day that I happened to stumble upon a Canadian penny in my yard. I'm not sure how it got there, but it did remind me that even though I found that penny, there was still the effort of picking it up in order for me to claim it. It got me thinking just how incredible it is to be a dividend growth investor for a couple of reasons.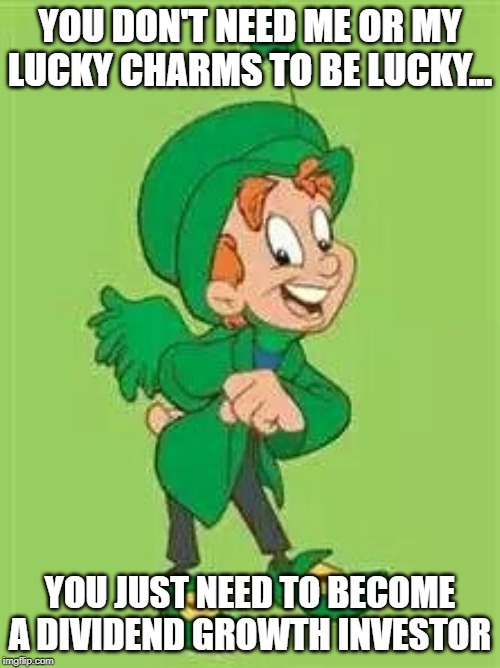 Image Source:
imgflip
The First Reason: Beyond A Bit Of Portfolio Monitoring, DGI Is Almost Purely Passive
While I had to pick up that penny to earn it and you would have to pick up that $10 bill to earn it, the incredible thing about DGI is that all you have to do is expend the initial effort through earning the money to finance your investment purchases, whether that is through a side hustle, your day job, or other means of generating an income.
Once you have generated the ~$78 to purchase that share of Exxon Mobil (XOM), the share is yours until you sell it. It will generate $3.48 in dividend income for you in the first year of holding it, ~$3.68 in the second year of holding it, and so on. This is the equivalent to basically finding a penny every single day, and the income will continually increase so long as a company continues to do well over time. The great part is all you need to do is hold your share of XOM and make sure that the company's fundamentals are relatively intact and financial results are continuing to steadily improve over time. Outside of that limited monitoring, the income you earn from that share of XOM is passive. It is deposited straight into your brokerage account. You don't even have to walk to your mailbox to collect your dividend check anymore.
And you can scale that up to whatever amount you'd like to earn every day in average dividends. If you'd like to earn $100 a day without having to reach down to pick up a Benjamin Franklin, you'd need to amass roughly 10,000 shares of XOM (although you'd obviously diversify into at least a couple dozen companies besides XOM).
The Second Reason: Dividend Growth Investing Also Isn't Based Upon One-Time Lucky Events
While it does take a bit of luck to be able to generate an income large enough for one to comfortably cover their expenses and invest the excess into dividend paying companies, it really isn't that difficult to become a dividend growth investor nowadays.
Although I got started with a bit over $2,000 when I was 20, you could start even start with considerably less than that.
Robinhood has been incredible in my experience
and although I haven't yet received any dividend paying companies in free stock from Robinhood, one could receive enough free stock (up to $500 if they refer enough friends and family) to buy actual blue-chip dividend stocks like Johnson & Johnson (JNJ), Lowe's (LOW), and Altria Group (MO).
And let's be honest, how often have you ever encountered a quarter in a parking lot let alone a $50 or $100 bill? While I'm not a mathematician, I'd venture to say that the odds of finding real money laying somewhere for the taking are very slim. Outside of finding a $50 bill in a parking lot once, I only have really encountered dimes or less.
Fortunately, dividend growth investing is based on your selection of companies, how much time you have to invest, and how much capital you have available to invest. These three variables are all at least somewhat in your control, which means that you can sort of create your own luck and routinely make money without having to even pick it up.
Conclusion:
Dividend growth investing is incredible not just for the reasons we've discussed in the past, but also for the fact that unlike one-time type events such as finding a $50 bill, dividends continue to funnel into your brokerage account as long as your companies continue to retain the ability to earn enough to comfortably be able to pay those dividends. And not only do you continue to receive those dividends if you have invested in high-quality companies (which isn't that hard to do when there are so many out there), you also have the fortune of receiving dividend increases as your companies become more profitable. You're not only collecting your own steady source of easy income, but you're collecting a growing source of income as the years pass.
Discussion:
Do you agree that every day is a lucky day to be a dividend growth investor? Can you think of any other reasons why it's a lucky day to be a dividend growth investor? What's the most "free" money you've ever found? As always, thanks for reading and I look forward to replying to any comments you may have.