As indicated in the title above, I'll be reviewing the dividend announcements in my portfolio for the month of April and previewing the dividend announcements that I am expecting for May.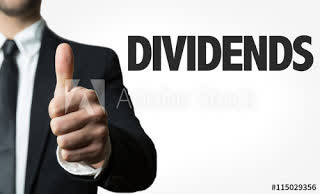 April Dividend Increases
Increase #1: Johnson & Johnson (JNJ)
As a testament to Johnson & Johnson's dependability as a company, JNJ announced a dividend increase that slightly exceeded what I was expecting as outlined in my
previous post in this series
.
JNJ announced a 6.3% increase in its quarterly dividend, taking it from $0.95/share to $1.01/share.
As a result of this dividend announcement, my annual forward dividend income increased by $0.48 across my 2 shares.
Increase #2: Southern Company (SO)
The other dividend increase that I have benefited from as of April 27 came from Southern Company.
SO raised its quarterly dividend by 3.2% from $0.62/share to $0.64/share.
Across the 5 shares that I own, my annual forward dividend income was boosted by $0.40.
Increase #3: International Business Machines (IBM)
International Business Machines announced a 0.6% increase in its quarterly dividend from $1.62/share to $1.63/share.
While this is bellow my expectation, I understand that IBM is being conservative with its dividend at this time, with the idea they can reward shareholders with a greater raise later down the road.
Across my 4 shares of IBM, my annual forward dividend income was boosted by $0.16 due to IBM's announcement.
Freeze #1: ONEOK (OKE)
Due to the supply and demand shock in energy at this time, it wasn't a surprise to learn that ONEOK froze its quarterly dividend at $0.935/share.
As the business environment stabilizes in the next couple quarters, I anticipate OKE to resume dividend increases.
Freeze #2: Magellan Midstream Partners (MMP)
Similar to OKE, Magellan Midstream Partners announced a freeze in its quarterly distribution at $1.0275/unit.
Again, I expect MMP to resume distribution increases likely within the next 6 months.
Freeze #3: Exxon Mobil (XOM)
Exxon Mobil announced that it would be maintaining its quarterly dividend at $0.87/share.
Given the downturn throughout the economy, and especially in energy, XOM's announce of a dividend freeze wasn't too surprising.
Like other energy companies, I expect that XOM will announce a dividend increase later in the year as economic activity picks back up.
Dividend Cut: EQM Midstream Partners (EQM)
Although EQM Midstream Partners announced in February that it would be cutting its distribution in the future, EQM officially announced that it would cut its distribution on the day that I am writing this post.
The quarterly distribution was slashed 66.6% from $1.16/unit to $0.3875/unit, which will free up a tremendous amount of capital for EQM and make it much more sustainable for the long-term as it lowers its DCF payout ratio considerably.
Across my 4 units of EQM, this cut resulted in a $12.36 decrease in annual forward distributions.
Expected Dividend Increases in May
Expected Dividend Increase #1: Lowe's (LOW)
Under normal circumstances, I would expect Lowe's to announce a high single-digit to low-double digit dividend increase in LOW's dividend.
Unfortunately, COVID-19 complicates matters and makes it nearly impossible to accurately predict what LOW will announce as its next dividend.
Should LOW announce a dividend increase, I suspect that increase will be in the mid-single digits.
I'm predicting a 5.5% increase in LOW's quarterly dividend from $0.55/share to $0.58/share.
In a less likely event, I wouldn't be too surprised to find that LOW announced a temporary dividend freeze until the full economic impact of COVID-19 is known.
Expected Dividend Increase #2: Leggett & Platt (LEG)
Similar to LOW, I'm not sure what Leggett & Platt will announce as its next quarterly dividend due to these extraordinary times.
If LEG does announce a dividend increase in May, I expect that the company will announce a 2.5% increase in its quarterly dividend from $0.40/share to $0.41/share.
Once the economic impact of COVID-19 begins to ease, I believe that LEG will announce another smaller dividend increase to likely $0.42/share later in the year.
Expected Dividend Increase #3: Main Street Capital (MAIN)
In the case of Main Street Capital, I am expecting that MAIN announces a 2.4% increase in its monthly dividend from $0.205/share to $0.210/share, though this will be partially offset by a $0.01 reduction in MAIN's semiannual special dividend from $0.24/share to $0.23/share.
Across my 16 shares of MAIN, this announcement would increase my annual forward dividends by $0.64.
Concluding Thoughts:
Outside of the distribution cut from EQM, this month was fairly decent in terms of dividend increases.
As a result of EQM's significant distribution cut, my annual forward dividend income declined $11.32. Besides the effective distribution cut when Energy Transfer Partners merged with Energy Transfer Equity to form Energy Transfer (
ET
) in 2018, this is the first month that my dividend income decreased from dividend announcements.
As unfortunate as this pandemic is in terms of the loss of life and financial uncertainty for tens of millions of Americans, one of the rare positives to come out of this in my opinion, is that I'm able to test the dividend growth investing strategy in real time through a very difficult business environment for the first time in my investing career.
Should my dividend income come out of this pandemic relatively unscathed as I suspect it will, this would go another step further in affirming my belief in DGI as a sustainable strategy to achieve financial independence.
Discussion:
How was your April in terms of dividend increases?
Did you experience any dividend cuts?
Are you expecting any dividend increases from newer stocks in your portfolio as I am with MAIN?