As I'm writing this post, the month of July is less than a week and a half away from ending.
It's difficult to believe that we'll soon be entering the month of August and fall will soon be upon us, which will bring a respite from the oppressive heat that we've been experiencing here in Central Wisconsin.
With that out of the way, I'll turn my attention to the intent of this post, which is to discuss my expectations for dividend increases for the upcoming month.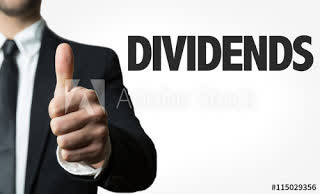 Actual July 2020 Dividend Announcement(s):
Dividend Cut: Wells Fargo (WFC)
Just last week, Wells Fargo (WFC) announced that it would be cutting its quarterly dividend 80.4% from $0.51/share to $0.10/share.
Given the current economic environment and challenges that WFC has encountered (WFC posted its a loss in Q2 2020 for the first time since 2008), it is understandable that WFC would announce this dividend cut while former Visa CEO and newly minted WFC CEO Charles Scharf aims to turn the ship around following WFC's 2016 scandal that revealed WFC's employees were pressured into hitting sales targets and opened millions of phony accounts to do so.
Across my 8 shares of WFC, this announcement resulted in a $13.12 decline in annual forward dividends.

Second Dividend Cut: Dominion Energy (D)

Given the mounting costs and delays in getting the Atlantic Coast Pipeline online that Dominion Energy owned a 53% stake in (after buying out Southern Company's 5% stake earlier this year) and Duke Energy owned a 47% stake in, the two companies made the decision to abandon the project.

D also announced that it was cutting its quarterly dividend 33.5% from $0.94/share to $0.625/share, which is disappointing.

It does make it an easier pill to swallow knowing that D's dividend payout ratio will be much more sustainable and allow the company to focus on generating earnings growth in the future.

Over the 4 shares of D that I own, my annual forward dividends dropped by $5.04.


Dividend Increase: J.M. Smucker (SJM)
J.M. Smucker (SJM) announced a 2.3% increase in its quarterly dividend from $0.88/share to $0.90/share, which is precisely what I forecasted in my
previous post of this series
.
Any dividend increase or even a dividend announcement in line with the previous is fine with me, so I warmly welcome SJM's dividend increase.
Across my 2 shares of SJM, my annual forward dividend income advanced $0.16.
Expected Dividend Announcement(s) for August
Dividend Increase: Altria Group (MO)
I'm expecting Altria Group (MO) to build upon its 50 consecutive years of dividend increases this August.
It's for this reason that I am expecting MO to announce a 3.6% increase in its quarterly dividend from $0.84/share to $0.87/share as it works to strengthen its balance sheet and continue to diversify away from its core tobacco business, especially through its partnership with Philip Morris International (PM) to distribute IQOS in the United States.
Concluding Thoughts:
My dividend income has declined by $18.00 during the month of July as a result of the aforementioned dividend announcements.
It has been a difficult year as far as my dividend income is concerned with regard to dividend announcements as my annual forward dividends have been reduced by $85.04 this year as a result of dividend cuts and suspensions, which represents a roughly 7% cut to my annual forward dividends.
As a result of my contributions to my retirement account and the deleveraging of my Robinhood margin through occasional deposits and dividends received in the account, my annual forward dividend income over the past few months has held steady despite the cuts and suspensions to date.
Discussion:
Have you endured any dividend cuts during the month of July?
Do you think most dividend cuts/suspensions have already been announced to date or have we not yet experienced the worst of the COVID-19 recession?
As always, thanks for reading and I welcome your comments in the comment section below.